Good party food is always important.
These recepies are great because the kids can get involved in making them as well...
Party Food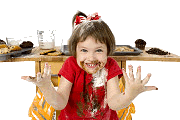 Children of all ages and gender benefit from spending time in the kitchen. With the easy to follow children's recipes listed here, kids will be introduced to basic math skills, reading and comprehension. Using a recipe will also develop their ability to follow directions, one of the most important skills a child needs for a successful school experience.
Peanut Butter Balls (No cooking required)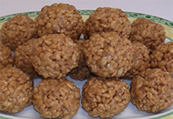 Ingredients: 1/2 cup peanut butter, 1/2 cup honey, 1 cup crushed corn flakes cereal, 2 tablespoons powdered milk.
Method: Set corn flakes aside. Mix all other ingredients well. Roll into balls. Then roll again in Cornflakes until covered. Refrigerate leftovers. This is a yummy snack that's great with milk !
Top
Crazy Cake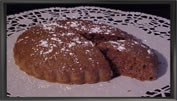 Ingredients: 2 tsp. baking soda, 1 tsp. salt, 2 cups sugar, 3 cups flour, 1/2 cup cocoa,
2 tsp. vinegar, 1 tsp. vanilla, 3/4 cup oil, 2 cups water.
Method: Preheat oven to 350. Mix DRY ingredients together in 8x8 baking pan. Smooth out the dry ingredients. Using a spoon or cup bottom make three large holes in dry mix. In 1 hole pour vanilla, next vinegar, then oil and last pour water over entire mix. Stir with a fork until thoroughly mixed. Bake at 350 for 35-40 mins. Cool and top with powdered sugar or frosting.
Top
Strawberry Ice

Ingredients: 2 pkg. frozen sliced strawberries in syrup, 3/4 cup lemonade.
Method: Mix the ingredients together in a blender or food processor until smooth. Turn off the blender, scrape sides, blend again & pour into a plastic container. Cover and freeze until serving time. Makes 4 - 6 servings TIP: If the ice is frozen hard, let it stand at room temperature 5 mins. or so before serving.
Top
Mouse Cupcakes (Makes 8 mice)

Ingredients: 1 Chocolate Cake mix, 8 scoops vanilla ice cream, 16 sandwich or mint cookies, Small candies-red hots, m&m's or skittles, shoestring licorice.
Method: Prepare cake mix according to package for cupcakes. Fill muffin cups 2/3 full. Bake and cool completely and remove from pan. When cool, top each cake with a scoop of ice cream then decorate to resemble a mouse using 2 mint cookies for ears, candies for eyes nose and mouth. Cut and insert licorice for the whiskers. If melting has occurred place in the freezer for 1/2 hour before serving, or freeze the cupcakes for easier handling.
Top
Frozen Bananas

Ingredients: 1 banana, 2 Popsicle sticks
Optional items: Honey, toasted wheat germ, shredded coconut, peanut butter
Method: Peel and cut in half, one firm, ripe banana. Wrap in plastic and freeze. When frozen and ready to eat dip in peanut butter or honey. Top with coconut or wheat germ. This also tastes great when dipped in melted chocolate...
Top
Creamy Swirley Popsicles

Ingredients: 1 small box of fruit flavored gelatin, 1 pint of hot water, 1 pint of vanilla ice cream, softened Popsicle molds or ice trays, Popsicle sticks
Method: In a bowl, dissolve the gelatin with the hot water. Stir in the ice-cream. Pour the mixture into popsicle molds. Freeze until partially frozen, and insert the popsicle sticks into the partially frozen popsicles.
To use ice trays: Pour into the trays and cover with plastic wrap. Insert a toothpick through the plastic wrap into each cube.
Top